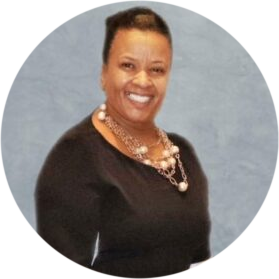 Rev. Louise W. Faulkner is a native of Hanover County. She is the third child of Dorothy White Lacy. She has two sisters and one brother. She is a loving mother of four children, Richard, Geor`Vanda, Preston Jr. and Precious. She has three grandchildren: Kea`Azeja, Kevi`Yon, and Teri'Yon.
Rev. Faulkner has been at Abner Baptist Church all of her life. She has served in several ministries. She strives hard never to say "NO" when asked to do the work of the Lord. God has blessed her with many gifts and she uses them to serve in a mighty way. In January 2009 Rev. Faulkner was licensed to preach, where she also made history as Abner's first female Associate Minister. She loves to lead the congregation in worship with excitement and praise.
"PRAISE THE LORD, I will extol the Lord with ALL my heart in the council of the upright and in the assembly …… (Psalm 111)
Rev. Faulkner is a graduate from the 1985 class of Patrick Henry High School in Hanover County. She has taken several courses at J. Sargeant Reynolds. She is a 2007 graduate from Virginia Union University, Evan Smith Training Institute with a Certificate in Religious Studies.
Rev. Faulkner loves the Lord and desires to be a strong yet humble servant in all HE has planned for her to do.