Gwendolyn Arlane Sims Eanes Shepard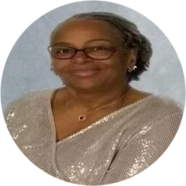 Gwen was born and raised in Cumberland County to the Late Eldridge & Edith Sims. She has three brothers (one deceased) and two sisters (one deceased). She attended Luther P. Jackson Elementary School and graduated from Cumberland County High School in 1977. She also attended classes at Southside Community college.
Gwen accepted Christ at the age of 10, was baptized and joined the Cornerstone Baptist Church where she is still an active member. She has served in the Sunday School, the Cherubim Choir, Young Adult Choir, and the Church Nurses Unit.
At the age of 12, she began playing the piano. It was Gwen's mother who saw the vision that God had for her and because of her efforts, it is the reason that she continues to play, sing, and minister to God's people today. In her earlier years, she started playing piano at Cornerstone Baptist Church where she began playing for their Sunday School, Youth Choir and eventually the 2nd, 3rd, and 4th Sunday services.
In the 48 years of ministering in music, Gwen's music ministry has led her to play at various churches in the surrounding counties, and to form and join several groups. Under her leadership, in 1990, The United Voices of Christ was formed and later revamped to the Soldiers for Christ with new members.
She is now married to Amos Shepard and together they have a blended family of six daughters, five son-in-laws, many grandchildren and great-grandchildren.
The Love of God, and her music ministry have been the foundation for so many struggles in Gwen's life and God delivered her through them all. He has kept her with an intimate relationship with Him. Gwen continues to play at her home church on 2nd, 3rd, & 4th Sundays and she now plays on 1st Sundays for the Abner Baptist Church Youth Choir, where she can share the greatness, goodness, and Love of God with others.