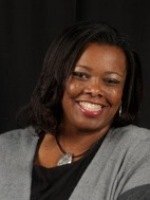 Rev. Zita Lee is a native of Waterbury, CT. She is the sixth child of seven children born to Elsie S. Kelly. At the tender age six, she gave her life to Christ and joined the Zion Baptist Church in Waterbury, CT. She was educated in the public and private school system in Waterbury, CT and Berkeley School of Business in White Plains, NY. She is currently enrolled in the ECP (Extended Campus Program) at Union Presbytery Seminary to receive a Masters of Arts in Christian Education.
She serves as a Volunteer Facilitator for the Baptist General Convention of Virginia, which has allowed her to facilitate workshops at various churches throughout the state of Virginia along with volunteering at the Goochland Free Clinic and Family Services. She is a former member of North Gayton Baptist Church, Richmond, VA from 1996-2006 where she served as President of Christian Education, Sunday School/Bible Study Teacher, Founder/President of the Singles Ministry and former member of Combined Voices and original member the Vision of Praise. Rev. Lee was licensed to preach at the Historical Sixth Mount Zion Baptist Church, Richmond, VA on April 27, 2008 where she served in various ministries from 2006-2010.
Rev. Lee united with the Abner Baptist Church Family in September 2010. She currently serves as an Associate Minister and Superintendent of Sunday school. Rev. Lee loves God with all her heart, mind, body and soul. Her favorite scripture is John 3:16, "For God loved the world that he gave his only begotten Son, that whosoever believes in Him should not perish but have everlasting life." Her hope is that God blesses all those that come in her path as she continues to be a servant in the ministry He has given her through preaching, teaching and singing. One of her favorite quotes is from Rick Warren's book, Purpose Driven Life … "My ministry is to believers, My mission is to non-believers."
Rev. Lee is currently developing a women's ministry, "Sincerely from God's Heart to Yours". The purpose of this ministry is to embrace the heart of women of all ages and ethnicities. This ministry will provide women with a safe environment to open their hearts to God. They will have the freedom of the heart, mind and soul to experience God's love and grace in their struggles so that they can become and embrace the true women within. This ministry will provide small group Bible studies, workshops, retreats and conferences.